The sun is out, the skies are blue, and the sun rays hit the wet grass, giving it that twinkle in the daylight and there is the fresh smell of the air. It often inspires many to go outdoors, especially to connect and just be in love with nature. The best way to get this done and eat while having fun is basically through a picnic. It brings fun to the family as an outdoor event that strengthens the family bond.
But as we get these aesthetic benefits from the environment that surrounds us, it is also fundamental for us to try to give back to the environment the beauty and serenity it gives us too. That is why it is essential when planning for your picnic, to have an eco-friendly one. What do we mean by that? Here are 15 super ways to have an eco-friendly picnic this year with your family & friends.
1. Have the picnic at a local location
Instead of taking much time and energy traveling from one place to another just to have a picnic, why not just source for awesome venues from around your location. I bet you haven't tried them all, with the help of the internet and navigational technology, you can easily look up and discover great picnic spots in your area while still learning and getting to know your locality.
A simple backyard picnic would also do for a fun family picnic. This saves you on fuel money or travel expenses if you are planning to travel outside your region or country. You can also take public transportation to a spot that is close by. It aids in reducing air pollution that would be made by the long drive to a distant picnic area.
2. Clean up the area after the picnic event
Clean up your picnic area and that of your neighbors if they leave a mess behind. There is no need to upset the ecosystem with the large amounts of junk left over after a picnic. Litter finds its way to the neighboring area and waterways, which can cause harm to wild animals.
Certified picnic areas have trash cans that are sorted out into recyclables and non-recyclables, organic and non-organic. So, dispose of your waste in an environmentally friendly manner. If your picnic area doesn't house these facilities, you can carry your trash home to sort and throw them away.
3. Avoid packages and take away
Ordering take out seems like the easy option when planning a picnic, but do you realize the amount of waste take out generates? It does not only generate large amounts of waste, but the packaging is also made out of plastics, which when littered is harmful to the environment.
Wrappings used to pack, that prevent spillages of liquid food can also be quite a huge amount. It is better to avoid wrappings all together by buying tightly closed containers that keep the food fresh.
This will minimize carbon footprint as much as possible. A zero-waste meal is always the best way to have an eco-friendly picnic.
4. Only carry what you need
Because a picnic is outdoors and sometimes deep into the woods and parks, far from regular amenities such as shops, it is very easy to over pack for a picnic just in case you might need something that can't be easily accessible.
The best way to make sure that you carry only what you need is to begin planning for the picnic early. For example, you have to identify the activities that will take place during the picnic to know exactly what to pack for the trip.
5. Use natural repellants and sunscreen
Experiencing the outdoors comes along with bugs and insects of all types and some can be irritating by trying to get into your meal. Some can also be harmful.
So, you will want to keep these little creatures at bay by applying a repellant on the skin or carry an insecticide that you spray on bugs that try to get on your picnic blanket.
However, these products contain harmful chemicals that when exposed to the environment, the buildup can be very harmful. Therefore, it is better to opt for natural skin protection and repellants that are less harmful to natural life.
6. Get the picnic utilities from your home instead of buying new
You have all that you need for a picnic in your house. The perfect blanket is tucked away somewhere behind your closet, the perfect carry-on bag may just be that grocery bag that is lying in a drawer somewhere in the kitchen.
Take a good look around your house, the best tools for a picnic are just around, those mugs, tumblers, stainless utensils, and cloth napkins are all that you need for an eco-friendly picnic.
Home supplies cut back on waste, spending, and carbon emissions that come with the purchase of new products. Now you don't have to spend so much money to experience the fun outdoors.
7. Have an eco-friendly menu
Have meals in your menu that have less harmful products to the environment and you can't go wrong with organic foods that are nutritious and plant-based. Isn't outdoors the best place to eat a salad? You can also grow your own products or get them at your nearest farmers market which will not only help you go green but also support systems that would keep the planet healthy.
An eco-friendly meal with compostable products that break down naturally and safely benefits the environment in numerous ways. Above all, avoid foodstuffs with chemicals that are not only harmful to your health but also the environment.
8. Avoid disposables
Avoid products that have only the functionality of one use in their shelf life like plastic bottles. Avoid paper cups and plates, and plastic spoons and forks, which are used only once and thrown away; generating a lot of waste and litter that is harmful to the environment if not disposed of responsibly.
One can carry reusable cloth napkins instead of paper towels and tissue. Avoid napkins that can easily be blown away by wind because they litter the environment. Also, avoid meals that generate waste like fruits. If that can't be avoided, make sure you dispose of the peels responsibly.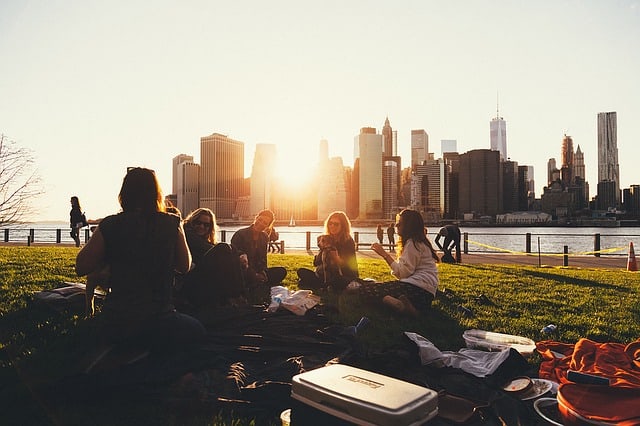 9. Re-use
Have reusable utensils such as cutlery and flatware that can be used during the picnic. You can also use reusable containers for water instead of carrying bottled water. Use a bottle with a built-in filter that can easily be refilled with water from the nearby water source in the park.
Avoid straws that can only be used just once and thrown away. Instead, use spoons or just sip your drink directly from the cup. Have utensils that you can use again and again.
10. Avoid breakables
Apart from glass being too heavy bulky, glass almost always does not make it back to the kitchen after a picnic. It is, therefore, better to use stainless steel dishes and storage containers, bamboo silverware sets, or stainless drinking glasses.
Glass particles are also dangerous when they break on the ground because you can end up hurting yourself, ruining a perfectly good picnic.
11. Bring your pet
Your pet is fun to have around during a picnic to run around and play with the kids but make sure your pets have name tag collars and leashes to keep them safe.
Your dog not only adds up the fun to a picnic, they also feed on food remains from the picnic and the accidental spills from the picnic meal so you don't have to throw it away. Eventually, you don't litter the picnic site.
12. Use your hands
Using your hands will help you avoid carrying utensils that are often bulky, you can serve finger foods such as salads and banana oat bars that do not require cutlery. But ensure you clean your hands before and after the meal.
13. Plan ahead for the aftermath
Most people feel lazy and end up not doing a thorough job after having their picnic meal. It is at this point that everyone is full and lazy and only want to take the ride back to the house or take a nap.
Therefore, it is important to plan ahead for the aftermath of a picnic meal so that it doesn't contribute to unnecessary littering due to the feeling of laziness and wanting to leave things at the picnic site.
14. Protect the habit of children and pets
Children and pets can sometimes interfere with the ecosystems and ways of life of native species plants, nesting birds, and other small creatures in the park or picnic surroundings.
As adults accompanying kids and pets to the park or any other alternative picnic areas, ensure you choose places for them to play that is away from native plant species and nesting birds.
15. Recycle
Think about recycling only when you are out of the reducing and reusing options. You can recycle by using water leftover from the ice of the cooler to water nearby plants. Also, dispose of used cans and bottles in appropriate areas where they can be collected for recycling.
References:
https://www.epicurious.com/expert-advice/7-essential-eco-friendly-picnic-tools-article