Did you know that all kinds of plants thrive well at a particular temperature? Are you wondering which plants fit well in a particular temperature range?
You must first know that every shrub species has its own liking and characteristic, being aware of its needs can help keep extend the life of your plant, hence-this article covers all best 11 shrubs that grow best in zone 6 and how to maintain its growth and fertility.
Finding your zone/Which Zone are you in?
Zones are the specific temperature associated with your area. You can check your zone area by visiting the USDA Plant Hardiness Zone Map- By entering your Zip code, you can determine which zone your area comes under. These guidelines are designed to select plants suitable for its zone all year round.
Attributes of Zone 6
Zone 6 falls under the temperature range of -10º to 0º F. Hence, it is divided into two types with a 5º degree difference: Zone 6a and Zone 6b.
Zone 6a: Temperature between -10º to -5º F.
Zone 6b: Temperature between -5º to 0º F.
There are a variety of shrubs, flowers, fruits, and trees that grow best in zone 6 with a medium-time frame. You can start planting seeds from March onwards and set the plants outside once you observe the shoots. Here are the 11 top shrubs that can provide shade in your garden.
1. Blue Enchantress Hydrangea
This stunning beauty is a collector's dream and a must-have for every gardener. The name "enchantress" is used due to its beauty and textured shades. It blooms both in the old and new growth, without the need for pruning. The bold blue flowers grow in acidic soil, otherwise bloom with pink color under alkaline soil.
They are ideal for patio containers or foundation design. An excellent shrub with an accent and pattern at the base or border. Can be beautifully paired with shade-loving perennials since it grows best under the partial sun.
It can grow up to 5 feet tall and 6 feet wide, the flowers can last long if they are protected from the harsh sun. At the start, white flowers forms, once it matures, several blue flowers bloom to form a ball shape.
The soil needs to be kept moist while providing rich, well-drained soil. With careful maintenance, it is a great re-bloomer for summer and springtime. Similar species can display cream color with slight green at its corners. Avoid harsh sun in hot places while frequently applying spring fertilizer.
2. Kousa Dogwood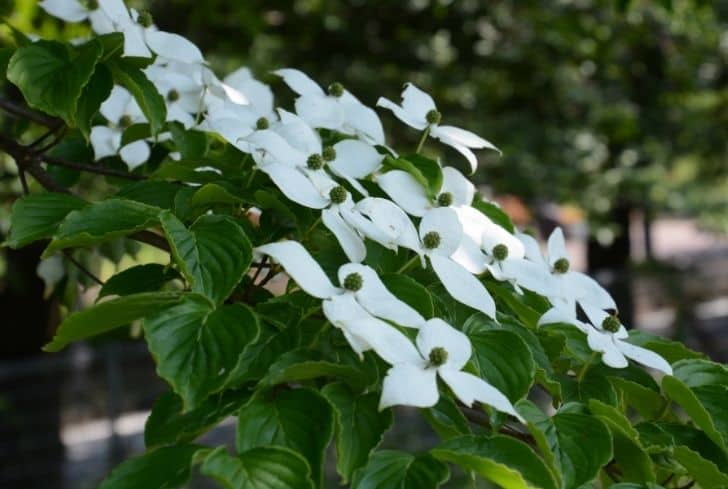 Dogwood trees are known for their delicate beauty and go by other names such as Chinese dogwood, Japanese flowering, and Japanese strawberry tree. They add visual durability that makes this species the best choice for home landscapes and urban areas.
Once fully grown, this tree provides firm support throughout the year, including wildlife. In spring, it creates a heavenly array of star-like flowers. In summer, the stunning canopy of layered branches offers shade for birds and insects. In autumn, it gives a beautiful red color from its fruit.
The spring flowers are the tree's biggest selling point. They are small, greenish-yellow, and pale flowers with modified leaves called bracts displaying a form of flakes. Kousa Dogwood can be planted in 5–8 in hardness zones.
This tree is a flowering and ornamental tree, usually planted for the interest of vision and the spread of spring flowers. Kousa dogwood grows to 15-25 feet tall and matures in 25 years. Making it a lifelong plant, it grows slowly and moderately, reducing its height from 12 to 24 per year.
The sun preference is from full to partial shade and grows best in acidic soil. It is drought-resistance and grows best in loamy, sandy soil. The leaves turn purple and scarlet during the fall and the pinkish fruit attracts songbirds.
3. Flowering Crabapples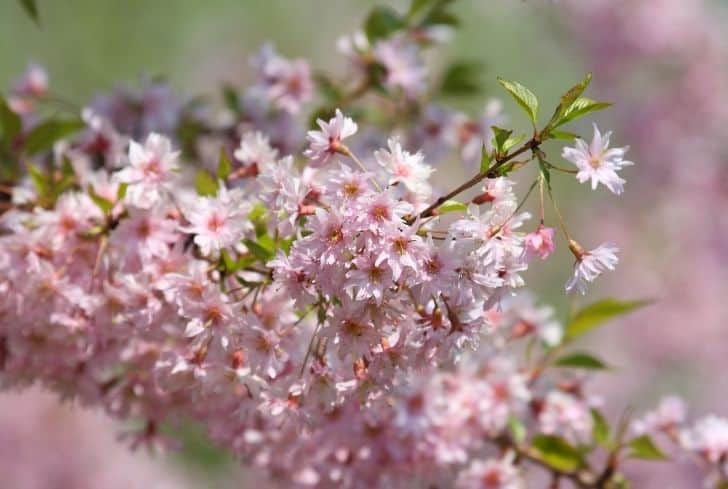 Also known as Malus or wild apples. They can grow in zones 4 to 8 and can reach a height of about 6 meters tall. They are known for their spectacular display of flowers in the spring with reddish apples. It grows into a small stature and forms into various unique tree shapes that can last for years.
Depending on the type of seed, it can display various shades of fruit colors from lime, yellow, golden, pink, orange, crimson, or even purple. The fruit can be as large as 1- 5 cm or as small as 0.3- 1.3 cm. In the fall season, you can observe colors of golden-yellow, orange, red before it sheds to the ground. These colors can last for months that let your environment feel magical.
Crabapples do not have a specific blooming stage, their petals can last in a 4-5-week period. Some have the fragrance of apples, cinnamons, or even cloves, and this can smelt in long distance. The large crabapples can grow up to 40 feet tall with a width of 12 meters depending on the species. We recommend getting the smaller crabapples as they fit in all places from the home patio to any small garden.
However, they are susceptible to diseases, signs such as defoliation of leaves, weakening of trees, and rust on the bark are some of the major appearances. Ensure you select a disease-resistant crabapple.
4. Hydrangea Serrata
Commonly observed in places such as Japan and Korea, the Hydrangea Serrata also known as mountain Hydrangea contains lace cap flowers that bloom from early to late summer. It is known to have the characteristics of changing color every season. It can grow up to 4 ft. tall and falls under the zones of 6-9. Best grown in well-drain soil with rich moisture.
The color changes depending on the soil pH level- Acidic soils allow the plant to produce blue flowers and slightly acidic displays pink flowers. It lacks any form of pest or disease problems.
5. Camellias
Camellias are common in Japan, with a height of above 25 feet tall. It falls between 6-10 zones. Camellias grow best in slightly acidic soil; they show signs of stress by turning the leaves yellow in case the soil has a high pH level. They can bloom for weeks from winter up to spring with a wonderful fragrance.
If you're looking to impress your guest, then any form of Camellias species will turn your garden into heaven!
6. Syringa Vulgaris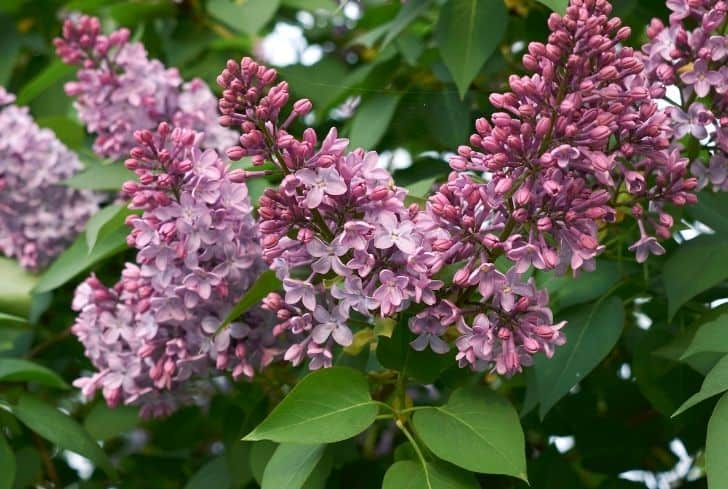 Popular for its fragrance, Syringa, also known as Lilac, is easy to grow with a tough resistance to pests. It blooms in late spring for one month with a range of colors- white, red, magenta, purple, and cream. The flowers are concentrated at the tip of the shoot of about 20 cm long. Depending on the type of Lilac, they can grow from 4 to 15 feet tall.
It thrives best on good drainage and fertile soil. They grow in alkaline soil with full sunshine once they are fully mature. They need a long period of winter for buds to grow and hence bloom in spring. For that reason, zones 3 to 7 suites all types of Lilac species.
7. Dicentra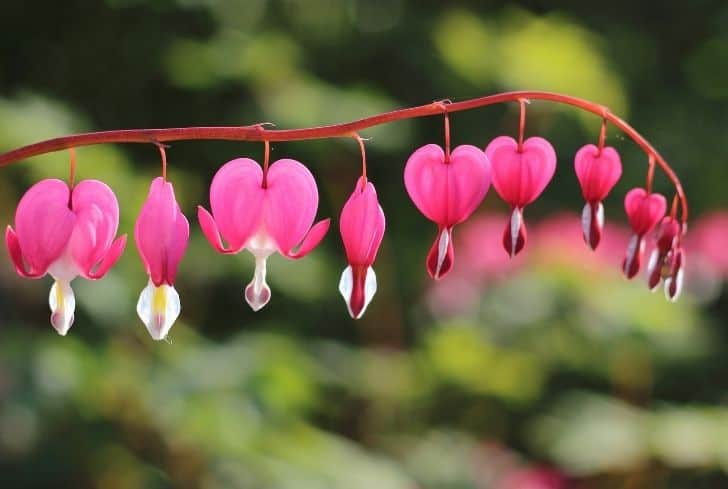 Also known as bleeding hearts due to its heart-shaped flowers hanging above its leaves. They are rhizomatous plants that bloom for a long season. Soil pH is alkaline and grows best in clay, loam, and sand.
You can grow shade-loving plants along with Dicentra to bring out an elegant presentation to your garden. They can bloom in full sun as long as you keep the soil moist. These species are known to attract hummingbirds and butterflies.
8. Shadbush
Other common names are serviceberry, shadwood, amelanchier of the rose family. It requires the soil to be consistently moist with a neutral to acidic pH level. It can grow between 10 to 25 feet tall, while some can grow up to 40 feet.
The irregular branching can cast light shade, while their roots are not invasive, hence you can plant other low shrubs under it. Serviceberry provides year-round flowers of white, yellow, red, gray with yummy purple fruit.
9. St. John's wort
This shrub falls under Hypericum prolificum family and grows best in zones 4-8. It grows up to a height of 5 feet tall. It grows into mound-shaped branches and forms yellow foliage in the fall. Large, yellow flowers form individually or in clusters of flowers. The dry, three-valve cartridge survives all winter.
This shrub has a wide variety of moisture and is flood tolerant. It has no serious disease or pests issues. Prefers slightly alkaline soil and works well on calcareous sites. They form groups at the border of the shrub and can be raised as a hedge. It is also useful for stabilizing lakes. We can use the seeds for propagation, but soft root pruning at the start of the year is good enough.
During its blooming time, it will surprise you by attracting buzzing pollinators around it.
10. Red chokeberry
Native shrub in North America with tall, multiple white flowers, bright red berries, and red fall colors. Red chokeberry is a tough and reliable plant for three seasons of interest, mainly in shady, humid places. It works well in a natural landscape or garden. It can grow up to 6 -8 feet high and 3 to 5 feet wide.
The bright green leaves turn red in the fall. The flowers are more abundant with sweet and edible fruits. It grows best in moist soil but dries out once mature. Adapts to the part-time and full-time sun.
Allowing full sun increases the fruit production stage. Keep it behind the border, because the plant will be bare on the lower stem. You can start pruning in spring during flowering while cutting off unnecessary suckers to control size.
The bark shows a beautiful reddish-brown color to grayish brown with time. If you are looking forward to seeing full red bright color leaves, then the Red chokeberry species will amaze you during fall.
11. Itea Virginica
Itea Virginica, commonly known as Virginia sweet spire, is a rounded and broad, deciduous shrub. Usually 3-4 feet tall. The species derives its name from the Greek word willow, which refers to some willows with leaves or clusters. The fragrant, small white flowers are cylindrical with vertical dropping in one stem, covering the bush from late spring to late summer and bloom from orange to golden in autumn.
It has been found to grow in moist forests and streams. Suitable for moist, organically rich, acidic soils. Regularly water during dry periods to maintain good soil moisture for good growth. Add a layer of organic mulch to control the soil temperature and retain moisture. Pruning only during flowering time. During the fall, the leaves' color varies from a mix of yellow, orange, purple, and red.
It is a versatile shrub for sun and shade areas. Grows well in wild or uninhabited areas. A great choice for damp areas like low spots or pool/stream margins.