11 Spectacular Palm Trees That Provide Shade
Beautiful, elegant, and yet incredibly useful, Palm Trees are a true asset to any garden. Their biggest highlight: they can provide you plenty of shade in compact areas. Since these plants do not have dense branches or roots, they save space and provide just the right amount of shade and comfort in your garden.
Palm trees are also incredibly easy to grow and maintain. Once you follow the right guidelines and get the appropriate species depending on the soil type and the hardiness zone, these plants will add a perfect character to your garden while also amping up on the shade.
But with so many palm trees out there, how do you know which one provides the best shade? Well, that exactly what we are going to unearth over the course of this article. As you keep reading, you will find a list of 11 different palm trees that add the perfect shade, structure, and elegance to your garden.
11 Spectacular Palm Trees That Provide Shade
1. Coconut Palm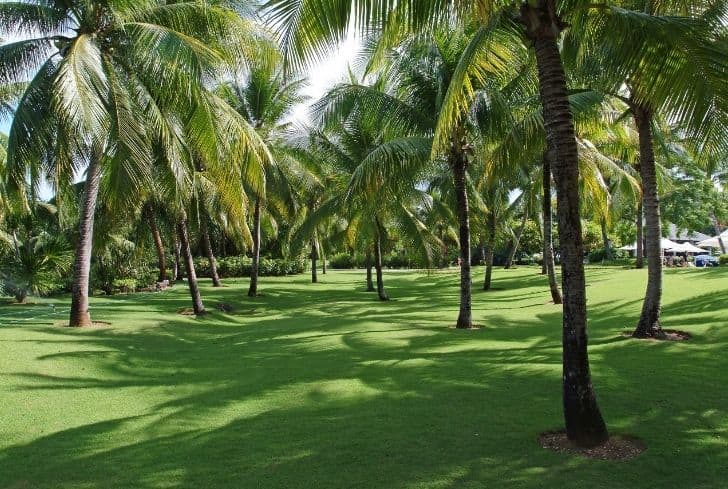 One of the most popular variants of palm trees, you have probably witnessed Coconut Palms on beautiful beaches. These palms are widely referenced in pop culture and are best known for their shade and delicious fruits.
Given the nature of the plant, you will primarily find them in Tropical and semi-humid areas. However, you can also grow them in your own home garden. To do this, you will first need a fresh coconut with its husk on. After sourcing the coconut, leave it completely submerged in water over the next two days. Finally, take the coconut out and position it in a small container holding it upside down. Make sure the top third of the container is no longer in contact with the dirt.
You can gradually full the fertilized soil and occasionally water it. Coconut palms thrive best in warm zones. So, if you are planning to get them at home, make sure you place it in a warm spot. The ideal hardiness zone for Coconut Palms ranges from 9 to 10.
2. Kentia Palm
View this post on Instagram

With beautiful leaflets growing up to one foot, this is yet another excellent Palm Tree that offers plenty of shade. Kentia Palms make excellent houseplants, barring one major issue: they are extremely slow in terms of growth. Usually, when kept in optimal conditions, the plant produces one new frond annually. So, even if this beautiful plant appears to be wide at the outset, it will take several years to assume lofty heights.
Interestingly, the slow-growing nature of this plant comes with one major perk: since the growth rate is quite slow, you do not need to re-pot it as frequently.
The Kentia Palm is native to parts of Australia, and there it is also popularly called the Paradise Palm. This is usually a form of feathered palm, with moderately arching fronds. Kentias thrive best in indirect sunlight and they can withstand low light quite well. Although they won't grow as fast in low light, they will continue to survive all while maintaining an overall healthy structure.
While growing this plant at home, it is recommended to water it only after the upper soil layer dries out. Besides, you should also mist it once in a while to boost the humidity levels and prevent the leaves from browning.
3. European Shade Palm
View this post on Instagram

As evident from the name itself, this is yet another extremely popular variant of Palm Tree that is best known for its shade. Alternatively known as the Fan Palm, these trees are fairly short in height with beautiful and wide leaves. Interestingly, the leaves of these palm trees tend to differ from the leaves many other palm trees due to their structure alone. Unlike any other variant of palm, these leaves are almost similar to a garden rake.
Given their extremely small size, you might question its shade bearing properties. However, this small size alone makes way for the shade offered by the plant. The idea is simple: since the plant is small, it has plenty of leaves that further offer the shade.
If you are planning to plant this tree in your garden, make sure you offer it plenty of water as with other palms. Also, consider planting it in zones 9 to 10 for faster growth and more shade.
4. Sentry Palm
View this post on Instagram

The Sentry Palm will appear almost similar to the Kentia Palm at outset. However, it still stands out with some beautiful and truly unique properties. First, the leaflets of this palm tree tend to be slightly less wide when compared to the Kentia Palm. Next, its fonds tends to display a stronger arch and unlike the Kentia Palm, it also features a bunch of curly leaves. Thanks to the structure of the leaves, the Sentry Palm is often interchangeably known as the Curly Palm.
When it comes to growth, the Sentry exhibits a relatively slower growth than Kentia. It can, however, assume an exceptional height of yup to 10 feet. This is certainly an excellent height for a home-grown plant.
The beautiful stature of the Sentry Palm often makes it an excellent focal point around lobbies, shopping malls, and even hotels. If you are planning to grow the Sentry Palm indoors, make sure it receives plenty of bright and indirect sunlight.
5. Piru Queen Palm
View this post on Instagram

With a height that can go up to a whopping 35 feet, these are one of the loftiest palm trees across the globe. To back up their massive height, these plants also come with super-wide leaves that are at least 6 feet long. So, if you are looking for a perfect shade during the sultry summer months, you know which palm tree will certainly have your back.
Unlike several other variants of palms, Queen Palm is known to enjoy the heat which again is one of its distinctive qualities. That is also the reason why these plants thrive best in warm areas ranging from zone 9 to zone 11 and more. Planting them is fairly simple and just the same as other palms. However, since they tend to be bigger, make sure you water them more frequently.
6. Pygmy Palm
Also known as the Date Palm, this plant is predominantly found in parts of Southeast Asia and it can assume a height of up to 10 feet when kept outdoors. That said, the plant witnesses stunted growth when kept indoors, and in this case, it will only assume a height of 4 to 7 feet.
The defining feature of this plant lies in its chunky trunk and super slender leaflets. Overall, it has an interesting appearance, and thanks to its foliage, it is often grouped as a feathered palm.
Despite the lofty height and the stunning foliage, this palm tree has one major con: it doesn't grow as fast when compared to other variants. If you are planning to grow it at home, make sure it receives a perfect mix of shade and bright light. Additionally, the soil should be perfectly moist (not loamy).
For best results, consider watering this palm when its topsoil completely dries out. Avoid overwatering it at any stage. Since the plant is slow-growing, you should also avoid re-potting it as frequently. Pygmy palms are sensitive, and they do not enjoy when their roots are disturbed. That is also the reason why these plants are relatively rootbound.
7. Pindo Palm
View this post on Instagram

Alternatively known as the Jelly Palm, this is often deemed to be the hardiest variant when it comes to the feathered categories. Pindos can take up a lofty height of about 30 feet, although they usually grow around 15 to 20 feet on average. Its foliage has perfect bluish-green shade and the plants appear extremely vibrant upon receiving full, direct sunlight.
This palm tree features a light brownish trunk with massive fronds and given these unique traits, it always manages to stand out everywhere. Though they enjoy the sun, Pindos can also tolerate low temperatures and they thrive well even in temperatures ranging from 5 to 6 degrees F. If, however, the temperature gets any lower, the plant will almost immediately start exhibiting traits of illness.
8. Bottle Palm

Best known for their pretty trunks, Bottle Palms are yet another tall variant that offers a lot of shade. The tree assumes its name from the structure of its trunk which appears like a bottle at the bottom. You can even grow it in a container since it tends to maintain a perfectly compact size that does not exceed more than 12 feet even after maturing.
One major issue with the Bottle Palm lies in the fact that it is extremely slow-growing. That means, if you are growing it from scratch or at a very young stage, you might end up keeping the same container for a couple of years.
Despite being named after its trunk, this tree doesn't exhibit the bottle shape in its trunk right from the beginning. On the contrary, the bottle shape only fully develops after the tree has completely matured. With time, the tree starts aging and its bottled trunk appears even more exaggerated.
The foliage of the Bottle Palm assumes the form of leaflets that grow from steadily arched fronds. The fronds of these palms do not exceed 6 at a stretch. When grown outdoors, they thrive best in US Hardiness zones 10 to 12 with temperatures going up to 34 degrees F. In case you are growing the plant in a cooler zone, you might want to move it indoors after fall and especially during the winter months.
9. Mexican Blue Fan
View this post on Instagram

Assuming a height of up to 40 feet, these are one of the tallest variants of palms there is. The Mexican blues are best known for their massive leaves that offer a perfect shade. Despite their slow growth, you can plant them in hardiness zones 10 or more. With a perfect tinge of silver, green, and blue, they will certainly grab your attention all while transforming the look of your garden.
Since you now have your list, zero in on your favorite picks and get your favorite palm tree right away. Since most of these trees are easy to maintain and incredibly hardy, you will encounter absolutely no hurdles while growing them at home.
10. Red Feather Palm
View this post on Instagram

Best known for its vibrant red color, the Red Feather Palm is native to the South Pacific region. It thrives in the rainforests and is often interchangeably called the Red Leaf or the Flame-Thrower owing to the number of leaves it produces.
The new leaves of this tree can be anything from maroon to red. However, over the next two weeks, it will end up transforming into a perfect shade of green. The leaves tend to be bigger on the mature trees with a length of around 12 feet. Leaflets, on the other hand, tend to measure around 3 to 4 feet. So, by the time this tree grows completely, it ends up being massively broad and tall.
Upon maturing, these trees can assume a height of 20 feet. However, since their growth rate is slow, it might take them a while, to reach and meet this goal. You can grow the Red feather in your garden, though it also doubles up as an excellent indoor plant. This plant cannot withstand the cold and you should only keep it outdoors throughout the year in US hardiness zones ranging from 10 to 11. If your zone is colder than the mentioned zones, consider moving the plant back indoors during fall, right before winter.
11. Lady Palm
View this post on Instagram

Originating from the Asian regions, this variant of the palm is almost similar to bamboos owing to its skinny and upright trunk. The Lady Palm boasts plenty of foliage and thus offers your much-required shade. While they do not require much maintenance, the plant tends to thrive best when it receives indirect sunlight. For best results, get them planted in hardiness zones ranging from 9 to 10. Upon maturing, they can assume a height of 10 to 15 feet.
References: