Medical waste is any waste material that is considered be of a bio-hazardous nature. Healthcare facilities like hospitals, dental clinics, nursing homes, physician's offices generate a large amount of medical waste daily. The waste generated includes a broad range of materials like needles, chemicals, blood, body parts, razor blades, broken tubes, suction devices, gloves, gowns, syringes, medical devices, pharmaceuticals and saturated dressings.
This type of waste isn't just generated by medical facilities and labs, but can also be found on general construction sites. The waste product of porta potties is considered a bio hazard and will be regulate by medical waste rules. Medical waste also can include waste that holds the risk for infection from puncture or contamination. It is broken down into several different classes of waste and has to be handled with special methods to prevent a biological risk from being introduced to the environment or community.
Past Problems with Medical Waste Disposal
While many facilities have always taken care to make sure that their staff and patients are protected from the medical waste that is generated on site by using special containers for the disposal of sharps or contaminated materials; the problems began when the waste was then removed off site. Despite their being many companies who were specially contracted to remove medical waste; it often wound up in the same landfills as regular waste and created a potential health hazard for the community at large.
To deal with this, LEEDs credits and certifications were developed to train and certify companies, facilities and projects in proper waste disposal techniques. Poor disposal of medical waste potentially exposes patients, doctors, health care workers, waste handlers to infection, toxic effects and risk of polluting the environment. All types of medical wastes should be appropriately treated and disposed off safely.
The Role of LEED in Medical Waste Planning
The Leadership in Energy & Environmental Design (LEED) program is a green construction program that requires that projects include environmentally friendly and sustainable construction methods, materials and planning. Recent changes to the LEED program award points to facilities that have "clean" areas, or areas that deal with medical waste, for showing that they have proper medical waste disposal methods in place.
These points are then redeemed for special credits and tax incentives that can help to make the building projects more economically feasible and counterbalance the cost of using green methods. In order for a project to qualify for the points towards credits, they have to use contractors and companies that are LEED certified.
Companies Which Deal in Medical Waste Disposal
The companies which deal in medical waste disposal are unique in the waste management industry. They must maintain a fleet of removal vehicles that use specially containment receptacles so that the medical waste is not exposed to the air, or at risk for spilling should there be an accident. They then also have to have special permits for transporting the waste on public highways and have arrangements for disposal that meet the regulations for disposal of bio hazardous substances.
Very often special incinerators are used to burn the waste, but these facilities also have to have special emission control filters in place to prevent contaminated smoke from harming the environment as well. In all, the collection and disposal of medical waste is expensive and hazardous. Companies that contract to deal with medical waste disposal have many more special considerations than those that deal with non-medical waste management.
Although there are hundreds of medical waste disposal companies in the world, below are 11 medical waste disposal companies in U.S. that set the standards for everyone else.
1. BioMedical Waste Solutions: BioMedical Waste Solutions, LLC, is a nation-wide medical waste disposal company that provides Medical and Biohazardous Waste Management Services. They guarantee effective medical and biohazardous waste removal in accordance with all state and federal guidelines, at an affordable price.
2. Waste Management: The largest and the best known of all the medical waste companies in North America, serving more than 20 million customers in the U.S. and Canada, Waste Management maintains a specialized healthcare division to deal the medical waste. They are committed to developing new waste solutions that can help communities and organizations achieve their green goals, including zero waste.
3. Stericycle: While Stericycle has a strong presence in North America, it also has a global presence. They provide medical and bio hazardous waste in North America, South America, the EU and UK. One of their divisions focuses on pharmaceutical disposal, which is a distinct specialty within the medical waste disposal industry. They also specialize in chemotherapeutic waste disposal which many companies cannot handle as it involves radioactive material.
4. XMED Disposal: XMED Disposal, Inc. is the premier provider of medical waste disposal services in the southeastern United States. XMED offers bulk medical waste transport services to area hospitals and other large health care facilities. They serve multiple route customers with collection and disposal services on selected routes throughout Alabama and Southern Tennessee.
5. Medical Waste Services: Medical Waste Services transport and treat bio-hazard waste in the great States of Arkansas, Oklahoma, Missouri, Kansas, Tennessee, and Mississippi. They offer medical waste service for hospitals, medical offices, veterinary clinics, nursing homes, labs, dialysis centers, tattoo parlors, home health, funeral homes, and all other industries that produce biohazard waste.
6. Medical Waste Services: The Medical Waste Services (MWS) management team has over 40 years experience in medical waste disposal services and operations. Medical Waste Services aim to provide customers a straight forward approach to medical waste disposal by offering savings guarantee, simplified billing, and comprehensive medical waste disposal services.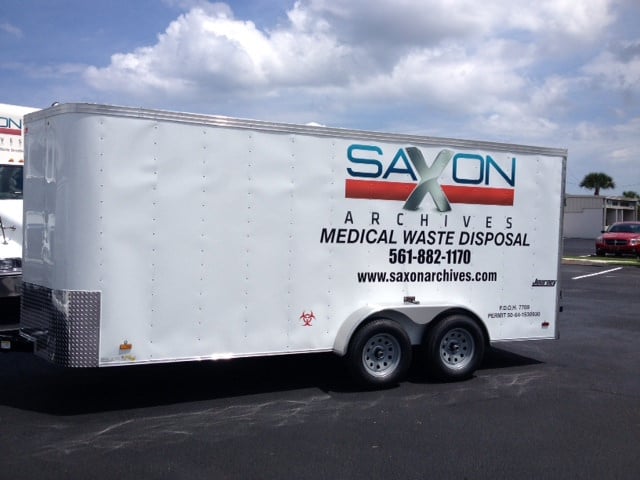 7. GRP & Associates: GRP & Associates is a medical waste disposal company providing service to hospitals, medical clinics, nursing homes, dentists, and many other health care industries since 1989. They collect all of your biohazard waste, then transport to their destruction facility for proper disposal.
8. BWS Inc.: BWS is a privately held company and has been providing full-service and comprehensive regulated waste disposal solutions since 1987. BWS provide competitive pricing, superior customer service and regulatory compliance with complete environmental responsibility.
9. Sharps Compliance: Headquartered in Houston, Texas, Sharps Compliance is a leading full-service provider of cost-effective, convenient and environmentally-sensitive solutions for the proper management of medical waste and used healthcare products; as well as unused and expired patient-dispensed pharmaceuticals and over-the-counter medications.
10. Converge Medical Solutions: Converge Medical Solutions (CMS), was established to fulfill the growing need for a cost effective, flexible, medical waste removal, transportation and disposal company. They serve several small and large customers throughout Northern California and Bay Area.
11. Clean Harbors: Clean Harbors provides medical waste disposal by incineration for materials including pharmaceuticals, biohazards, pathogens and chemotherapeutic wastes for hospitals, pharmaceutical, biotechnology companies and research & development institutions.
There are many established regional companies as well that have a direct focus on specific medical and bio hazardous waste disposal that meets different regional standards where applicable.
Special Considerations with Medical Waste Disposal
Besides having to maintain a special fleet of vehicles that are equipped to handle transporting medical waste, companies that deal with medical waste disposal also have to maintain a highly trained staff that is properly equipped for medical waste removal. One of the aspects of medical waste disposal that many people don't consider is that is can involve the cleanup after accidents.
Any time there is an accident, fire or flood – the end result can be a bio hazardous material that is then classified as medical waste. To maintain a trained crew and to provide them with adequate protection is another cost of running a company that is dedicated to the removal of medical waste.
Medical Waste and the Environment
Much of what is being done to reduce the amount of medical waste in the environment comes with the effort to change the packaging that is used with the waste. While items that can be repeated sterilized are more environmentally friendly, they are not considered to be health safe. The nature of the plastics used for medical applications and devices has changed over the years so that there is less a risk of contamination from the smoke created by incineration. There is more of an awareness of the need to handle pharmaceutical disposal more effectively to reduce ground water contamination as well.
Image credit